Featured Orgs: Positively Positive
Positively Positive
"We didn't understand the AIDS virus, and panic occurred. But, we have moved from a place of confusion and little understanding to a place where we now have a much broader understanding. Now, we can eliminate the fear and promote a new awareness, relying on education and a wide variety of treatment options. With choice there is hope!"

Positively Positive Homepage
Bio: Bradford McIntyre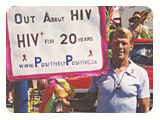 On November 28th 1985, I was told by my doctor to inform my family, arrange my finances and funeral. I had six months to live! After four years of living in fear, my life took a dramatic turn and I embarked on a spiritual journey from fear to Love! Healing does not necessarily mean cure of disease, but healing our mind and transforming our body to realize its full potential, joy and purpose! Learning about the influence that our thoughts have on our life and health; from breakdown to breakthrough! Living today as healthy and as fully as you can, mentally, emotionally, physically and spiritually! The abundance of life does not come from what one can provide for oneself, but it is provided in our connectedness. I show up for life!
I am not alone in realizing the importance in helping and educating others so we can create a shift in perception. There is more POWER in people knowing the TRUTH , than there is in hiding. My life has been so changed, going from fear; to removing the blocks that kept me from being my true self and living a full and healthy LIFE.
HIV has been my biggest teacher, a gift that taught me the importance of being ALIVE . Taking responsibility for me, Positively Positive , is insurance to maintain health, mentally, emotionally, physically and spiritually. My life is not about Death and Dying, but about living moment to moment, in the now! My life is filled with abundance, peace and love.
"On HIV: Science, Medical, Pharmaceutical, and Media."
Essay written by Bradford McIntyre (PDF)


POZ Canadian.
Bradford McIntyre is a writer for POZ Canadian, a non-profit Canadian online community that provides free support, HIV information, news about traditional and alternative treatments for HIV; lists resources and organizations; connects with other people living with HIV/AIDS in Canada from coast to coast through discussion forums; personals; chat and e-mail. If you want to write articles, poetry, or short stories - we are looking for contributors who would like to publish their work.