Universal Declaration of Human Rights: Introduction
Sixty years ago, nations of the world joined together in recognizing that all peoples, in all nations, are free and equal regardless of race, religion, economic status, age, gender or other personal characteristics. Through the signing of the Universal Declaration of Human Rights in 1948, the United Nations brought into being the first international document recognizing human rights as the foundation of peace, justice and freedom in the world.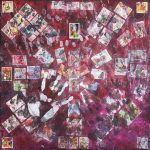 The Universal Declaration outlines 30 basic rights essential for all human beings to achieve their full potential and to live a life free of fear and want. It was a unique approach that developed from the world saying 'never again' to the horrific events of World War Two, a war that brought a scale of atrocity never previously witnessed. The global death count is estimated to have been more than 50 million. War crimes were widespread: from the infamous Holocaust in which Nazi Germany sought to eliminate 'undesirables' such as Jews, Poles, Slavs, Roma, Sinti, the mentally and physically disabled, homosexuals and other persons, to the use of sex slaves, otherwise known as 'comfort women', by Japanese soldiers. Labour camps were used throughout the world and, disturbingly, World War Two brought the first testing of biological warfare by Japan and the use of atomic bombs in Nagasaki and Hiroshima by the United States of America. Read more...