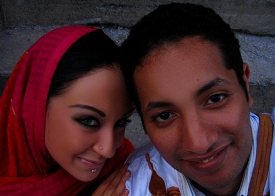 JUNE 2008: Nasser Weddady
Left: Raquel Evita Saraswati of Project Ijtihad and Nasser Weddady of the American Islamic Congress
"Although Mauritania had no 'slave market' where one could go 'shopping', bondage was mental and cultural. Slavery was justified through religious language. Slaves were promised access to paradise through obedience to their masters. I believe that our problems would have been mostly solved if religious leaders only had the moral courage to stand up and declare religious justifications for slavery to be null and void. Who in their right mind could cling to slavery and claim that Islam is a religion of peace?"
Nasser Weddady was born in Mauritania - a country in North Africa. Mauritania is located in a region known as the Maghreb - which also includes Algeria, Morocco, Tunisia, Libya, and the Western Sahara.
Nasser comes from a well established family of the ruling class - the Moors. His lineage includes accomplished and highly respected scholars of Islam. Many of Nasser's family members passed slaves down through the generations.
The son of a diplomat who freed the slaves left to him by his ancestors, Nasser spent much of his childhood traveling because of his father's work. He met men like Yasser Arafat and King Hussein of Jordan. His experiences as a diplomat's child taught him two things: first, that the talk of leaders rarely matches what is happening in the lives of everyday people. Second, his every word and action could come to reflect his nation's image. Therefore, he learned at a very young age to represent his heritage, his people, and his way of life.
Read the whole story.
Slavery in the 21st Century