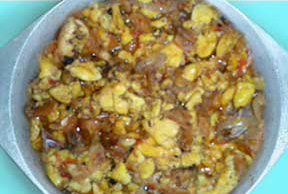 The Jamaican national dish is Ackee Saltfish (Codfish).
There is something about the Caribbean that keeps scores of people coming back and loving the Caribbean more and more. It's not only Rastafarianism, the sunshine, the culture, the lovely beaches and the mountainous feature of many of our islands; but an aspect that is so 'finger licking delicious'.
Caribbean islands boast a potpourri of dishes that have stemmed from many cultures from around the world. Trinidad for example as a result of their vast number of cultures has tons of different food. As a university student living on campus I have come across many people from around the region and they have introduced me to their food in some way or the other. For example Barbados likes flying fish and cou-cou, St. Lucia figs and saltfish, and the list goes on. However I will focus on Jamaican dishes especially since it is nearing the time when Jamaica got independence and we showcase every aspect of our culture.
This delicious dish can be eaten with almost anything. Many Jamaicans enjoy eating ackee with fried dumplings, boiled dumplings, roast breadfruit, bread boiled bananas, bammy, festival or anything that they so desire to eat it with. Over the years I have being alarmed by the 'creativeness' in Jamaicans. People are now making ackee with many other things including mackerel, tuna etc.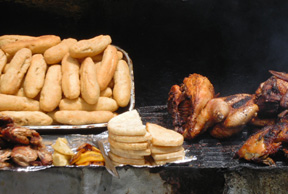 Jerk chicken as seen here is served with festival(the long oval shaped food), bammy bread or eaten by itself.



Another of our wonderful delights that tourists as well as Jamaicans enjoy and home and abroad is the spicy flavour of jerk chicken.