Our Theory of Change
Our Theory of Change is inspired by the integral philosophy of Ken Wilber, which posits that there are 4 areas (quadrants) where progressive development can occur: Interior Individual, Exterior Individual, Interior Collective, and Exterior Collective. Through our programs and projects, young people move along a linear path through each quadrant, as exhibited by the diagram.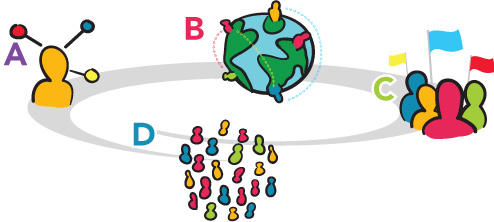 (A) Youth Development: We help develop a sense of social responsibility and awareness of global issues, as well as build capacity among youth, regardless of their placement across the spectrum of engagement.
(B) Youth Action & Participation: We provide engaged youth with the access to global opportunities, building their skills and creating a sense of belonging to a community of other actively engaged youth.
(C) Social Movements: We strengthen global social movements by collaborating with other organizations to ensure youth participate and become key stakeholders in these efforts.
(D) Societal Values: We impact shared values through our involvement in global social movements, ultimately influencing attitudes and behaviours towards creating a more sustainable world.