Recognition
2008
In 2008, TakingITGlobal was recognized as one of the World's Most Democratic Workplaces by
WorldBlu
. This marks the
second time in 2 years
that TakingITGlobal has received this honour. TakingITGlobal recognizes that by upholding democratic principles ourselves our members will notice our example and be inspired to become active global citizens. Furthermore, upholding democratic principles help the TakingITGlobal staff be more effective in our roles; by practicing democracy we are able to share our ideas, participate in important dialogue, meaningfully engage in our work, thereby fostering a healthy and positive work environment where innovation can flourish.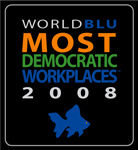 In 2008, co-Founder and Executive Director Jennifer Corriero was awarded York University's Bryden Alumni Award in the "One to Watch" category. Jennifer has also received The Women's Post 2008 Women of the Year award in recognition of her achievements, while she was also recognized as Impact's 2008 Social Entrepreneur of the Year award for her leadership.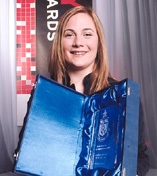 TakingITGlobal was awarded the Spirit Award in 2005 and 2008. Career Edge provides recent graduates with internship experience in organizations across Canada, and has placed interns in TakingITGlobal since 2000.
(L to R): Mr. Mike Goldrup, Director of Human Resources, Region of Peel, presents the 2008 Spirit Award to Michael Furdyk.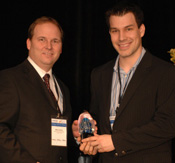 2007
In November 2007, TakingITGlobal was recognized as one of 25 Laureates for the 2007 Tech Museum Awards. In addition, TakingITGlobal was awarded the Microsoft Education Award for its TIGed.org program.
(L to R:) Dan'l Lewin (Corporate Vice President, Strategic and Emerging Business Development, Microsoft) presents the award to Michael Furdyk (co-Founder & Director of Technology) and Nick Yeo (Development & Communications Manager).
In 2007, the
Digital Divide Network
, the world's largest community of scholars, experts and practitioners dedicated to bridging the digital divide, was on Official Honoree of the 2007 Webby Awards. TakingITGlobal took over operations of the Network in 2006.
Other Awards and Recognition: