Online Community
TIGweb.org is the social network that connects you to the global issues that affect us all.
In 2000, TakingITGlobal launched the Online Community, a virtual space which lies at the centre of all of TakingITGlobal's activities, programs and services. Youth leaders from all over the world access a wide suite of tools and extensive databases to get connected to a range of issues. TIGweb.org is a leading social network for social good, and is organized by the following sections: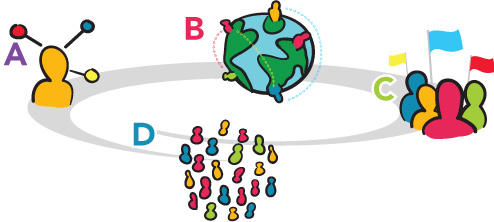 Resources
This section of TakingITGlobal contains our databases of resources, members can access thousands of listings from all over the world: events, toolkits, organizations or opportunities.
Youth Media
This section of TakingITGlobal provides platforms on which to share your expressions with other members. Thoughtful and creative expression happens on a daily basis through the Global Gallery, blogs and Panorama Zine, a collection of youth media.
Global Issues
Members and guests can learn about background information on pressing global issues such as peace, health and culture, and are provided links to relevant articles, major policy documents, and key international events.
Regions
Our dynamic map tool provides an interactive way to learn about geographical regions or multi-lateral organizations. Users can also zoom into individual country and city sites, which are localized portals that present all geographic-related content.