Donate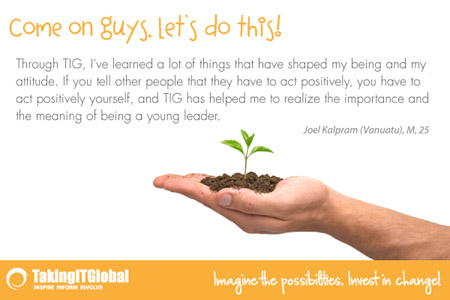 TakingITGlobal is one of the best things that happened to me.

Raheema (India)
I see TakingITGlobal as an academy of leaders-in-waiting.

Akinbo (Nigeria)
At TakingITGlobal we're using our knowledge and abilities to solve global problems. Information means empowerment!

Olga (Russia)
Members like Raheema, Akinbo and Olga keep telling us how much of an impact TakingITGlobal has made in their lives.
Donate today and join us as we continue providing youth around the world the necessary tools and information to make an impact in their communities.
We sincerely appreciate the support we receive from individual contributors! Your donations enable us to continue growing all of our programs.
As a registered charity in Canada and the United States, we can provide people in those countries with charitable tax receipts for all donations of $10 or more.
Ways to Give
Please consider TakingITGlobal as one of the charities that you regularly donate to with our monthly giving program - it's easy and will help us keep our fundraising costs at a minimum. You can also make a one-time gift at any amount.
Donate Online:
You can also send a cheque:
If in Canada, please make cheques payable to "TakingITGlobal Youth Association" and mail to:
ATTN: Development Manager
TakingITGlobal
19 Duncan St., Suite 505
Toronto, Ontario M5H 3H1
CANADA
If in the US, please make cheques payable to "Global Youth Action Network" and mail to:
ATTN: Executive Director
Global Youth Action Network
540 President Street, 3rd Floor
New York, New York, 11215
USA
Questions? Do you wish to learn more about planned giving or endowments? Is your corporation interested in making a difference in the lives of youth around the world? Please contact our Development Manager today to discuss your interest.
Interested in a detailed picture of TakingITGlobal's financial expenditures? View our most recent audited financial statement.